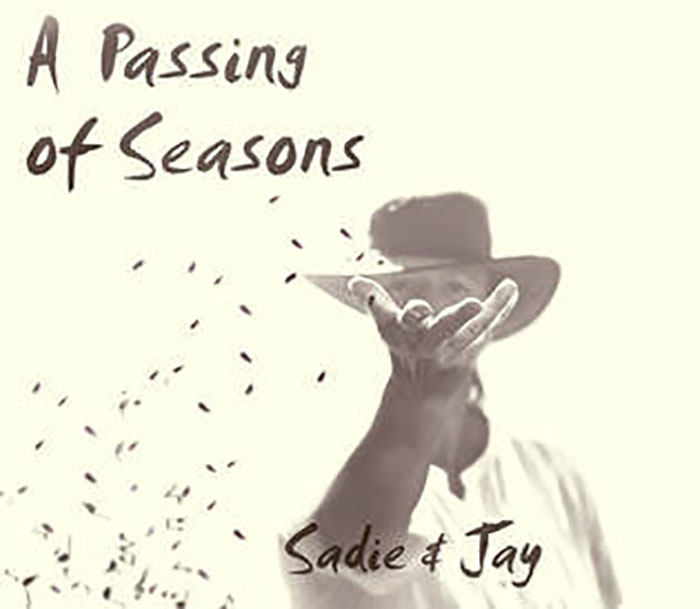 Review by Ian Dearden
The soundtrack to my journeys by car, plane and foot over the past few weeks has been the third album by the wonderful Brisbane-based duo Sadie & Jay. Recorded at Parklands Studio by the magical Michael Fix, this album continues the bright line drawn by their debut album, 'Curious' and its follow up, 'Rogue Folk'. The eleven track album features ten new songs from the pen of Sadie Gwynn Jones and David 'Jay' Penman, and it's trite (but accurate) to note that they make, and write, beautiful music together.
One of the dark arts of song writing (there are many) is putting a new twist on an old meme, or to put it another way (pun intended), finding new seams in ageing mines. The first example, 'Dust To Ashes', bursts out of the speakers at track 1 and kicks the album straight into overdrive – blending the indigenous legend of Ngarrabullgan, home of ancient spirits, with a recounting of Queensland's worst mining disaster (75 workers died) on 19 September, 1921 at Mount Mulligan (as white folks named it), near Mareeba in the far north of the state. Mining has been, and remains, a dangerous business, particularly so when safety collides with profits – and Sadie & Jay have captured this profoundly sad and troubling dialectic in a deeply moving song.
In another heartbreaking twist on an old meme, 'The Diggers Promise' is a duet between Jay, the soldier at the frontline, and Sadie, the lover at home – 'lovers to the end of time' but torn apart in real life by the senseless tragedy of war. Perhaps one day we will allow all our young men to grow old in their lover's arms rather than needlessly lose their lives on some foreign field.
'Salvation Jane' tells a very different story – how the seeds of the pretty lilac flower echium plantagineum from Europe were scattered by Jane Paterson near Albury, only to become Paterson's curse – a noxious, poisonous weed that now infests grazing lands throughout southern and central Australia. An exquisitely beautiful retelling of an ecological disaster story. There has to be a song about prickly pear deep down that same well of inspiration, for sure.
In different ways, 'Opal Teardrop' and 'The Black Queen' are each women's stories of love, healing and redemption, set in mining towns deep in outback Australia (Coober Pedy and Lightning Ridge). Sadie and Jay manage to bring these stories to life and me to tears, and that's a rare gift.
'Snowy Mountain Brumbies' is a song that delivers exactly what it says on the tin – the story of those ponies who arrived on the First Fleet and whose descendants live on to this day in the high country around Mt Koscuiszko, inspiring poets, bards and songwriters alike.
'Verandah' and 'Leaving The Harbour' are the bookends of love – from its delicate beginnings to the heartbreak of the loss of a loved one. The sailing metaphor is much beloved of songwriters, but yet again, the twist Sadie and Jay put on it has me reaching for my tissues and reminding myself (as if I needed to) that it's the music that brings us all home, wherever our mortal bodies or remains may be.
Then there's the sole non-original song on the album – a cover of 'Burning Moon' by The Company, written by their uber-talented guitarist Jamie Clark. The lyrics may be a little oblique, but for those of us with long memories, it's the story of the murdered sex worker Shirley Brifman and the endemic police corruption of the 1960s, centred on the National Hotel in Brisbane. In one of those fabulous Brisbane twists, the National Hotel was subsequently the venue of the fabulous and fondly remembered Tarpot Folk Club for a number of years in the late 1970s and early 1980s.
This is an stunningly beautiful album – Sadie (vocals, double bass and piano) and Jay (vocals, guitar and banjo) are in fine form, instrumentally and vocally, and they are ably supported by Donald McKay on bodhran, Rebecca Wright on cello and Gareth Mewes on violin, with Michael Fix and Suzanne Hibbs contributing electric guitar and percussion (respectively) to 'Leaving The Harbour'. A particular shout out for the string arrangements that weave their way throughout much of the fabric of this album – Gareth and Rebecca's contributions really do lift all the songs they play on to another level.
Michael Fix's recording and production skills are, as always, first rate, reminding us, yet again, what an amazing contribution he makes to the Brisbane music community.
Go to sadieandjaymusic.com and you can find out more about Sadie and Jay, buy this album and/or their previous albums, and check out their list of upcoming gigs (I've had the privilege of doing sound for them on a number of occasions – they are fantastic). Keep the music alive!!
https://www.musicmatters.blog/wp-content/uploads/2020/07/sadie-jay-a-passing-of-seasons-record-review.jpg
609
700
Ian Dearden
http://www.musicmatters.blog/wp-content/uploads/2020/07/Music-Matters-Blog-by-Ian-Dearden.png
Ian Dearden
2020-07-17 18:15:50
2020-07-21 21:54:01
Sadie & Jay – A Passing Of Seasons