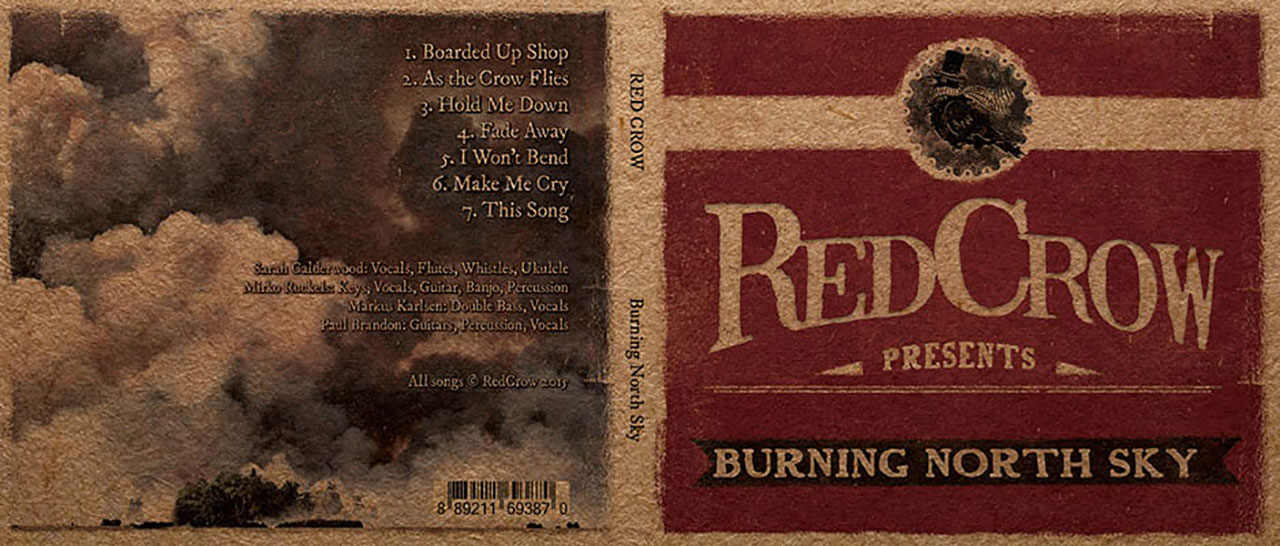 Review by Ian Dearden
Súnas bandmates Sarah Calderwood and Paul Brandon (life and musical partners) have joined forces with Mirko Ruckels (Pretty Violet Stain) and Markus Karlsen (The Company) to form Red Crow, a band that inhabits the interstices in the musical landscape between Americana, alt-country, celtic, folktronica and country soul. It's a fascinating and entrancing blend of original songs (credited collectively to the band), featuring Sarah's gorgeous voice out front of a group of wonderfully supportive musical compatriots (with the addition of fiddle on Make Me Cry by Markus' bandmate from The Company, George Jackson).
Grounded by the solid upright bass playing of Markus, and featuring superbly arranged backing vocals from all members, the album instrumentation includes flute, whistle and ukulele from Sarah, keys, banjo, guitar and percussion from Mirko, and guitars and percussion from Paul. There is a deliciously moody and brooding atmosphere to all the songs on this mini-album (seven songs in total), especially As The Crow Flies, which features haunting whistle and eerie electric guitars. Hold Me Down is a more straightforward alt-country number, featuring duo girl/boy vocals and a big chorus, including multi-tracked backing vocals from Sarah. Fade Away and This Song reflect Sarah's celtic songstress background, while Make Me Cry is pure country soul, with superb interplay between Mirko's banjo and Sarah's vocals.
It's always a pleasure and delight to listen to the outcome of a collaboration between extraordinarily talented musicians, combining their talents, while searching for a "voice" and a "sound". This album by Red Crow demonstrates that they have the voice, the sound and the songwriting chops – as with the best of band albums, they have put together something that is greater than the sum of its' parts.
It's a beautiful album, they have created something special and unique, and I can't wait to see them live! You can find out more at www.redcrowband.com
https://www.musicmatters.blog/wp-content/uploads/2020/07/redcrow-bruning-north-sky-review-by-ian-dearden.jpg
546
1280
Ian Dearden
http://www.musicmatters.blog/wp-content/uploads/2020/07/Music-Matters-Blog-by-Ian-Dearden.png
Ian Dearden
2020-07-17 18:25:33
2020-07-21 21:53:30
Red Crow – Burning North Sky